Adidas RPT-02 SOL Solar Wireless Headphones
Adidas RPT-02 SOL Solar Wireless Headphones
The headphones of the future are here. Powered by light, the Adidas RPT-02 SOL were created to help you crush your workouts—their IPX4 water resistance keeps them splash- and sweatproof. Equipped with a rechargeable battery that holds up to 80 hours of stored playtime, the RPT-02 SOL's have have a virtually infinite playtime when you use them in any kind of light.  Their rechargeable battery can also be powered up via USB-C in about 2 hours. With a range of over 32 feet, you can use them to stream music from any Bluetooth-compatible device such as your stereo, Bluetooth speaker or smartphone.

Features of the Adidas RPT-02 SOL Headphones include: 

Built with Exeger's Powerfoyle™, a groundbreaking light cell material that converts all forms of natural and artificial light into battery life.

Built in part from recycled plastics: 51% of the product consists of plastic of which 87% is post-consumer recycled PC-ABS and recycled nylon (excluding plastics in electronic components).

Removable and washable parts include the inner headband and ear cushions.

Battery holds up to 80 hours of stored playtime in a dark environment.

Intuitive controls via a 5-way knob that manages on/off, play/pause, next/previous and device pairing. 

Dynamic 40mm drivers with

105±3dB @1KHz 179mV 10mm sensitivity.

Bluetooth 5.2 wireless connectivity.

Charges in 2 hours via USB-C (cable not included).

IPX4-rated design for sweatproof and splashproof performance.

Microphone and remote control.

Measures

7.9h x 5.4w x 2.85"d

.
Size

7.9h x 5.4w x 2.85"d

Material

Electronics, Powerfoyle, Battery, PC/ABS, Stainless steel,PET, Nylon, PP

Origin

China
If for any reason you are not satisfied with your purchase, you may return merchandise within 90 days for a refund in the form of original payment. Learn More.
$7.95 Flat standard shipping fee available. Learn More.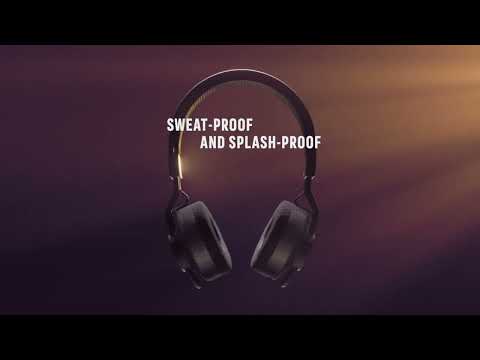 You will earn Rewards points.
Why We Chose This
We're always searching for products that combine innovative technology with sustainable solutions, and these headphones definitely fit the bill. Developed in Sweden, Powerfoyle is a patented solar cell material that has the unique ability to transform any indoor and outdoor light into clean, endless energy. Not only do these headphones eliminate reliance on electricity—a large source of carbon emissions—but they also utilize post-consumer recycled plastic.
Authenticity Guarantee
At MoMA Design Store, all of the designs we sell are curator-approved and authentic. We ensure the integrity of our products through research and by working closely with the designers. Our products embody the spirit of good design objects in MoMA's collection. Some of them are actual designs represented in the Museum's collection.
You Might Also Like
Recommendations
Recently Viewed