Andean Gemstone Cube Puzzle
Andean Gemstone Cube Puzzle
Each Andean Gemstone Cube Puzzle is a unique mix of seven brightly colored gemstones such as rhodonite, celestine, jasper and soapstone, hand-carved on the north coast of Peru using traditional craft techniques. A reimagined version of a classic mathematical puzzle, they form a perfect cube when fitted together in any of 32 different ways. An engaging, tactile set yet also a playful desktop object, each Gemstone Cube Puzzle contains a unique mix of stones, similar to the images shown here, but entirely one of a kind. Assembled, the cube measures 1.75" square.
Sourced by Desarrollo Artesanal Rentable (D.A.R.) Proyectos—in English, that's Sustainable Artisan Development Project—a group which believes that mindful design can act as a bridge between the indigenous craft communities of the Andes and global citizens.
Designer

Desarrollo Artesanal Rentable (D.A.R.) Proyectos

Size

Assembled: 1.75" Cube

Material

Andean semi-precious stones

Year of Design

2016

Origin

Peru
If for any reason you are not satisfied with your purchase, you may return merchandise within 90 days for a refund in the form of original payment. Learn More.
$7.95 Flat standard shipping fee available. Learn More.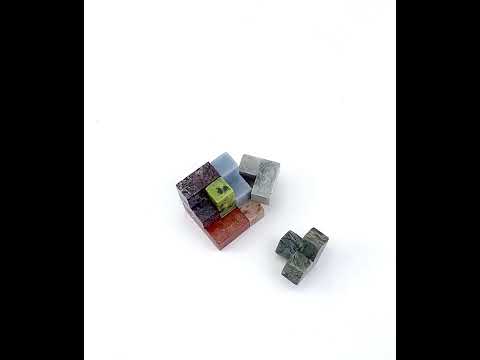 You will earn Rewards points.
Authenticity Guarantee
At MoMA Design Store, all of the designs we sell are curator-approved and authentic. We ensure the integrity of our products through research and by working closely with the designers. Our products embody the spirit of good design objects in MoMA's collection. Some of them are actual designs represented in the Museum's collection.
You Might Also Like
Recommendations
Recently Viewed