Anthology - Adam Pendleton
Anthology - Adam Pendleton
Anthology, created by artist Adam Pendleton, is a hand-sewn book produced in an edition of 24. Each copy has a unique canvas cover and is signed, numbered and dated on the inside back cover. The book features 200 screenprinted pages on Japanese Shoji paper.
Isolated photographs and fragments photocopied from the pages of books in the artist's personal library are layered with marks, dashes, patterns, shapes, and handwriting that frequently verges on abstraction. Each composition is unique, but many elements iterate and recombine throughout the series: masks, ceramics, phrases ("WHAT A DAY WAS THIS"; "IF THE FUNCTION"), and historical images related to the visual culture of decolonization. The compositions are directly related to Pendleton's ongoing series of works on Mylar, and the book translates and indexes these source collages, which are usually printed on transparent film; in
Anthology
they have been silkscreened onto delicate Japanese Shoji paper. Reflecting the combinatorial nature of the compositions, each book has a unique canvas fabric cover with a black-and-white pattern, screen printed with one of four handwritten texts. Pendleton has collated the works in this large volume in chronological sequence, encouraging readers to track the recurring components of the series as they phase in and out across the book's 200 pages.
Adam Pendleton: Who Is Queen?
is on view in MoMA's atrium through January 30, 2022.
Size

18.25h × 14w × 2.5"d

Origin

USA
Special shipping charge of $300.00
Shipping Method: Front Door Delivery
This item cannot be shipped outside of the contiguous U.S.
This item is final sale and non-returnable.
$7.95 Flat standard shipping fee available. Learn More.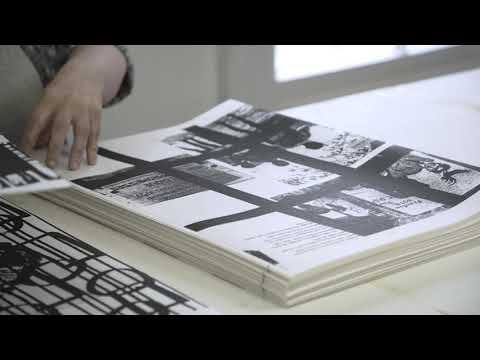 You will earn Rewards points.
Authenticity Guarantee
At MoMA Design Store, all of the designs we sell are curator-approved and authentic. We ensure the integrity of our products through research and by working closely with the designers. Our products embody the spirit of good design objects in MoMA's collection. Some of them are actual designs represented in the Museum's collection.
You Might Also Like
Recommendations
Recently Viewed