The Atom Hanging Mobile is a captivating homage to the pioneering work of Niels Bohr. To celebrate 100 years of the revolutionary Niels Bohr Atom Model, the Niels Bohr Institute of Copenhagen created this remarkable mobile that brings science and art together in perfect harmony, transforming your space into an eye-catching display of elegance and intellectual curiosity. Crafted with meticulous attention to detail, the mobile features a balanced arrangement of intricately designed atom models, suspended in delicate equilibrium. Each atom is crafted to capture the essence of Bohr's groundbreaking atomic theories. Hang the mesmerizing mobile in your home or office, and let it spark conversations and inspire wonder. A testament to the intersection of science and design, the Atom Hanging Mobile is a true work of art that celebrates the endless pursuit of knowledge and the elegance of the atomic world. To clean, gently wipe with a damp or dry cloth. The Atom Hanging Mobile measures approximately 9h x 9w x 9"d.
Designer

The Niels Bohr Institute & Ole Flensted

Size

9h x 9w x 9"d

Material

Steel Rings, Plastic Balls, Cotton String

Year of Design

2013

Origin

Denmark
If for any reason you are not satisfied with your purchase, you may return merchandise within 90 days for a refund in the form of original payment. Learn More.
$7.95 Flat standard shipping fee available. Learn More.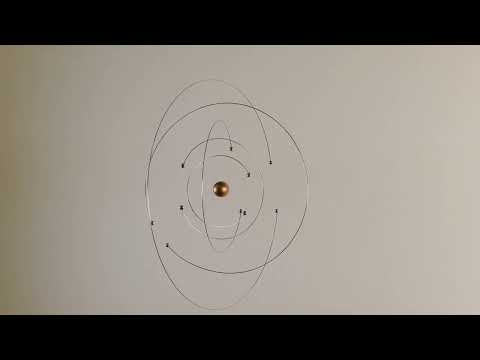 You will earn Rewards points.
Authenticity Guarantee
At MoMA Design Store, all of the designs we sell are curator-approved and authentic. We ensure the integrity of our products through research and by working closely with the designers. Our products embody the spirit of good design objects in MoMA's collection. Some of them are actual designs represented in the Museum's collection.
You Might Also Like
Recommendations
Recently Viewed