Bird Buddy Smart Feeder with Solar Roof
Member and other discount do not apply.
Bird Buddy Smart Feeder with Solar Roof
Member and other discount do not apply.
Never miss a feathered visitor again! This smart bird feeder captures and categorizes close-up photos and videos of visiting birds for viewing at your pleasure. With the free, accompanying Bird Buddy app for iOS and Android, you'll be alerted whenever birds have stopped by. The AI-powered feeder then uses visual recognition to identify who's visiting! 
Depending on how many birds visit the feeder, its high-resolution camera lasts anywhere between 10 to 15 days on a single charge. This is drastically improved by the solar roof add-on, even providing a continuous charge in extremely sunny locations. 
Features of the Bird Buddy Smart Feeder with Solar Roof include:


Captures

selfie-like closeups, videos.

Built-in microphone captures sound of every bird that stops by.

Digital collection holds photos and videos you'd like to store or share. 

Charges with USB-C charger, included.

Includes  a seed scoop, a universal bottom mount with screws, a metal hanger, and a detachable and reversible solar roof. 

Requires WiFi connection.

Measures 9h x 4.3w x 6.9"d.
Designer

Kyle Buzzard

Size

9h x 4.3w x 6.9"d

Material

Recyclable ASA Plastics, Gorilla® Glass

Year of Design

2021

Origin

China
If for any reason you are not satisfied with your purchase, you may return merchandise within 90 days for a refund in the form of original payment. Learn More.
$7.95 Flat standard shipping fee available. Learn More.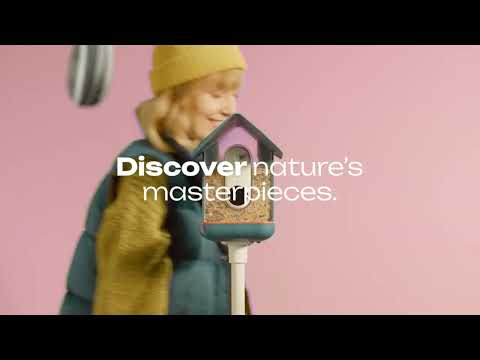 You will earn Rewards points.
Authenticity Guarantee
At MoMA Design Store, all of the designs we sell are curator-approved and authentic. We ensure the integrity of our products through research and by working closely with the designers. Our products embody the spirit of good design objects in MoMA's collection. Some of them are actual designs represented in the Museum's collection.
You Might Also Like
Recommendations
Recently Viewed