Chirp Alarm Clock and Lamp
Chirp Alarm Clock and Lamp
Wake up like a dream with this graceful clock that imitates the look and sound of a sunrise in a natural outdoor environment. The Chirp Alarm Clock and Light is a kiln-fired porcelain bird with a natural marble base and a proud robin's breast of elegant curves equipped with LED lights. Twenty minutes before the alarm sounds, the Chirp Alarm Clock and Light will begin to glow softly, gradually increasing in intensity to a serene morning glow. Once the light is at its maximum power, the sounds of nature—chirping birds, flowing water—will gradually surround you, providing a wake-up ritual that is refreshing, non-intrusive and peaceful.
Choose from several sets of nature sounds, set alarm time and manage other controls with the manual buttons or in the DAQIChirp app, available for iOS and Android. 8.5h x 3.5" diameter base. The Chirp Alarm Clock and Lamp is powered by plugging in the included USB-C cable.
Size

8.5h x 3.5"diam.

Material

Porcelain, Marble, Brass and Plastic

Year of Design

2019

Origin

Taiwan, Republic of China
If for any reason you are not satisfied with your purchase, you may return merchandise within 90 days for a refund in the form of original payment. Learn More.
$7.95 Flat standard shipping fee available. Learn More.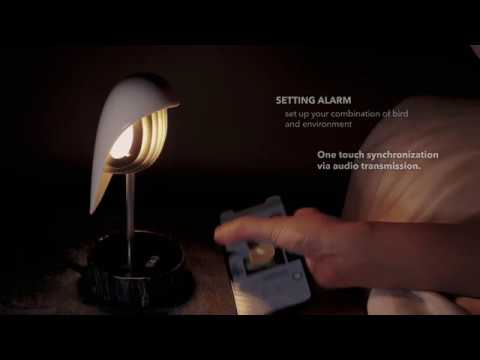 You will earn Rewards points.
Authenticity Guarantee
At MoMA Design Store, all of the designs we sell are curator-approved and authentic. We ensure the integrity of our products through research and by working closely with the designers. Our products embody the spirit of good design objects in MoMA's collection. Some of them are actual designs represented in the Museum's collection.
You Might Also Like
Recommendations
Recently Viewed