A chic, compact alternative to ordinary French presses, the Clara has a black stainless steel body and minimalist silhouette. Its unique vacuum-insulated walls maintain the ideal brewing temperature for optimal extraction and they also keep your coffee hot for your second and third cups. An enhanced mesh filtration ensures that every cup is smooth and silt-free. The Clara French Press is easy to use: simply add your favorite ground coffee and boiling water, filling up to the ratio lines (no measuring required), stir, attach the plunger, wait a few moments, and then press.

Features of the Clara French Press include:


Heat-lock double wall vacuum that maintains a consistent temperature throughout the brew, for better-tasting coffee.

A 360° pour lid that does not need to be aligned with the spout.

Enhanced filtration that eliminates sludge and silt from your brewed coffee. Its ultra-fine mesh brings out clean and complex flavors in a full-bodied brew.

The wooden agitation spoon disperses your coffee grounds for even extraction and balanced flavors. 

Ratio lines for the coffee grounds and hot water.

The non-stick PTFE-coated interior (PFOA-free) makes cleaning up easy.

24oz capacity. 

Stainless steel body and filter, BPA-free plastic lid and handle.

Measures

8h x 6.7w x 4.5"d.

Hand wash only.
Size

8h x 6.7w x 4.5"d

Material

Stainless Steel, BPA-free Plastic

Year of Design

2019

Origin

China
Hand wash only.
If for any reason you are not satisfied with your purchase, you may return merchandise within 90 days for a refund in the form of original payment. Learn More.
$7.95 Flat standard shipping fee available. Learn More.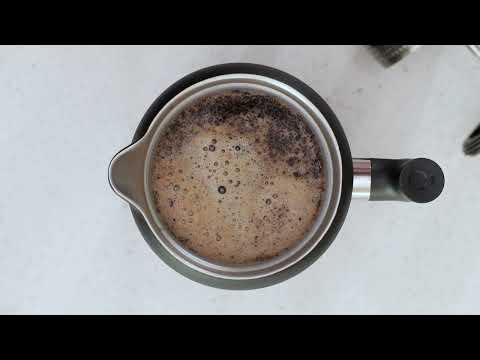 You will earn Rewards points.
Authenticity Guarantee
At MoMA Design Store, all of the designs we sell are curator-approved and authentic. We ensure the integrity of our products through research and by working closely with the designers. Our products embody the spirit of good design objects in MoMA's collection. Some of them are actual designs represented in the Museum's collection.
You Might Also Like
Recommendations
Recently Viewed