Expanding Cookware Organizer
Expanding Cookware Organizer
Made for storing pots, pans, lids and baking tins in kitchens with limited space, this Expanding Cookware Organizer fits in a drawer or cabinet and features seven adjustable non-scratch wire dividers and slots. The design expands from 12 to 22" to fit different drawer and cabinet sizes.

Features of the Expanding Cookware Organizer include:

Perfect for storing pans, lids & baking tins.

Includes 7 adjustable non-scratch wire dividers with pan handle slots.

Expanding design adjusts to fit drawer or cabinet size.

Non-slip feet.

Easy-to-adjust dividers.

Made from mild steel & high-impact polystyrene.

Measures

5.75h x 8w x 12–22"d.

Wipe clean with damp cloth.
Size

5.75h x 8w x 12-22"d

Material

Mild Steel, HIPS

Year of Design

2020

Origin

China
Wipe clean with damp cloth.
If for any reason you are not satisfied with your purchase, you may return merchandise within 90 days for a refund in the form of original payment. Learn More.
$7.95 Flat standard shipping fee available. Learn More.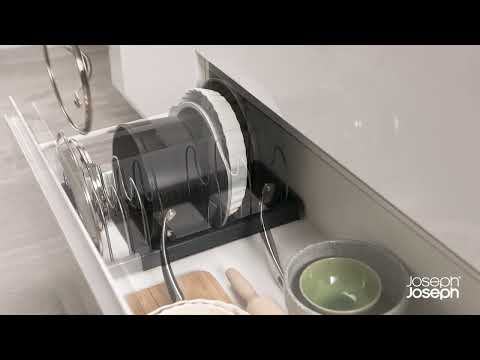 You will earn Rewards points.
Authenticity Guarantee
At MoMA Design Store, all of the designs we sell are curator-approved and authentic. We ensure the integrity of our products through research and by working closely with the designers. Our products embody the spirit of good design objects in MoMA's collection. Some of them are actual designs represented in the Museum's collection.
You Might Also Like
Recommendations
Recently Viewed