This simple, intuitive sliding jigsaw game gives your spatial skills a workout through over 500 puzzles, with the difficulty progressing just a little bit on each one. After you arrange the red, yellow and blue plastic pieces according to the color-coded LED screen in the top left corner, your job is to slide them around until the large red piece can sit in its clearly marked place at the center bottom of the board. Once it's there, the game automatically detects a win and moves you on to the next puzzle. A great way to limit screen time and develop spatial reasoning skills for adults and kids alike, the Giiker Super Slider game has a Learn Mode that gives you hints for the next step as well as a Challenge Mode that rates your solution time from Fail to Super. Its small, handheld design makes it a great travel-friendly toy. The Giiker Super Slider Game is powered by two AA batteries (not included) and measures 6.7h x 4.35w x 0.9"d.  Ages 6+.
Size

6.7h x 4.35w x 0.9"d

Material

ABS Plastic

Year of Design

2021

Origin

China
If for any reason you are not satisfied with your purchase, you may return merchandise within 90 days for a refund in the form of original payment. Learn More.
$7.95 Flat standard shipping fee available. Learn More.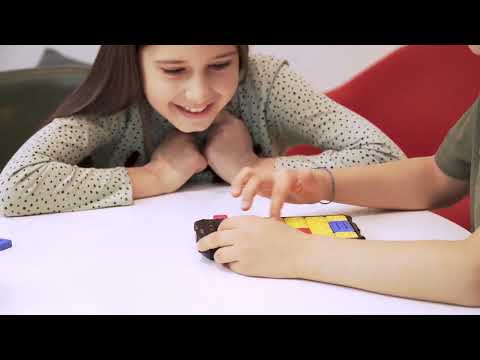 You will earn Rewards points.
Authenticity Guarantee
At MoMA Design Store, all of the designs we sell are curator-approved and authentic. We ensure the integrity of our products through research and by working closely with the designers. Our products embody the spirit of good design objects in MoMA's collection. Some of them are actual designs represented in the Museum's collection.
You Might Also Like
Recommendations
Recently Viewed