HAY George Sowden Electric Juicer
HAY George Sowden Electric Juicer
Employing his keen eye for combining neutral and pastel colors, George Sowden has devised another clever kitchen design. This electric juicer combines stainless steel juicer apparatus with a polypropylene cylinder that conceals the juicer motor. Pressing your citrus fruit down on the extractor activates the motor. A strainer below the extractor catches seeds and pulp as your juice flows through the spout and into your glass. Powered by standard plug-in, the George Sowden Electric Juicer is produced by HAY, a manufacturer with work in MoMA's collection. It measures 11h x 8w x 7"d. Hand wash only. Dry completely before use.
Designer

George Sowden

Size

11h x 8w x 7"d

Year of Design

2021

Origin

China
Hand wash only. Dry completely before use.
This item cannot be shipped outside of the contiguous U.S.
If for any reason you are not satisfied with your purchase, you may return merchandise within 90 days for a refund in the form of original payment. Learn More.
$7.95 Flat standard shipping fee available. Learn More.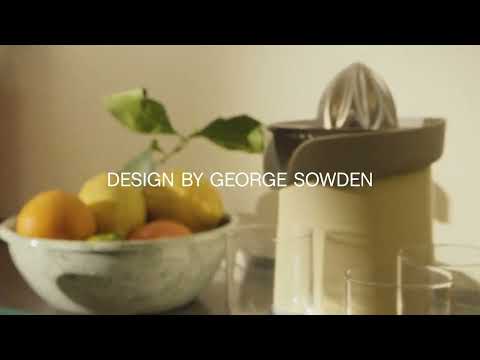 You will earn Rewards points.
George Sowden
A founding member of the Memphis Design Group, George Sowden launched his own brand in 2010. His everyday designs combine delight with function, rendered in a distinctive palette.
Authenticity Guarantee
At MoMA Design Store, all of the designs we sell are curator-approved and authentic. We ensure the integrity of our products through research and by working closely with the designers. Our products embody the spirit of good design objects in MoMA's collection. Some of them are actual designs represented in the Museum's collection.
You Might Also Like
Recommendations
Recently Viewed