Infinite Galaxy Jigsaw Puzzle
Infinite Galaxy Jigsaw Puzzle
Featuring a Hubble telescope photo of the Westerlund 2 star cluster, this Infinite Galaxy Jigsaw Puzzle has no fixed shape, starting point or edges—the pieces are double-sided and can be assembled in thousands of different ways. The 236 laser-cut maple plywood pieces include three "whimsy" pieces: an astronaut, a space shuttle and the international space station. To further challenge puzzle aficionados, the puzzle maps to an impossible 3D shape that is like a Mobius strip in that the inside and outside are mathematically identical. Practically, this means that pieces from one side can attach to the other, but only once they have been flipped over—in other words, the puzzle is an extremely difficult and unique challenge. Ages 13+.

The Infinite Galaxy Jigsaw Puzzle was created in the Catskills by the generative design studio Nervous System, who have work in MoMA's collection, and measures variably, with 7l x 11"w in its smallest configuration.
Designer

Jesse Louis-Rosenberg and Jessica Rosenkrantz

Size

Variable size, 7l x 11"w inches in smallest configuration

Material

Maple Plywood

Year of Design

2018

Origin

USA

Warning

Choking Hazard — Item contains small parts. Not for children under 3.
This item is final sale and non-returnable.
$7.95 Flat standard shipping fee available. Learn More.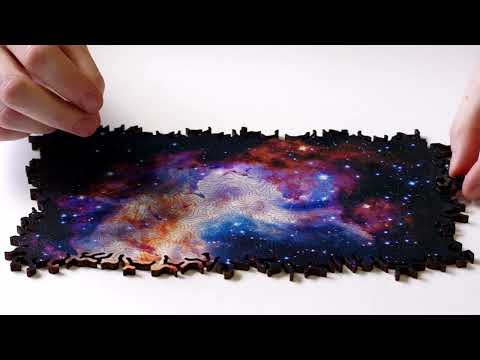 You will earn Rewards points.
Authenticity Guarantee
At MoMA Design Store, all of the designs we sell are curator-approved and authentic. We ensure the integrity of our products through research and by working closely with the designers. Our products embody the spirit of good design objects in MoMA's collection. Some of them are actual designs represented in the Museum's collection.
You Might Also Like
Recommendations
Recently Viewed