Kay Bojesen Wooden Monkey Figure
Kay Bojesen Wooden Monkey Figure
Produced to commemorate the 70th anniversary of Danish company Kay Bojesen, the Kay Bojesen Wooden Monkey Figure is a reissuing of the famous 1951 design, now crafted from various types of discarded wood. The woods' different shades add even more character to this cute fellow, who is perfect for the kids' room or as a decorative object. 

Features of the Kay Bojesen Wooden Monkey Figure include:

Moveable arms, legs and neck joints.

Each monkey's stomach, paws, mouth and eyebrows are all made from Limba wood like the original monkey, named "Abe".

Other woods used include a combination of ash, carbonized ash, beech, mahogany, maple, oak, teak and walnut. Since the variety and quantity of woods vary with each monkey, they are all unique.

The monkey's paw has a special 70-year anniversary stamp on its paw and comes in a wooden box to commemorate its limited edition.

Sitting, the monkey measures 7.9"h.
Designer

Kay Bojesen

Size

8"h

Material

Mixed of Reworked Woods
Dark colors: Teak, Walnut, Carbonized ash or Mahogany.
Light colors: Ash, Beech, Oak or Maple.


Year of Design

1951

Origin

Denmark
This item is final sale and non-returnable.
$7.95 Flat standard shipping fee available. Learn More.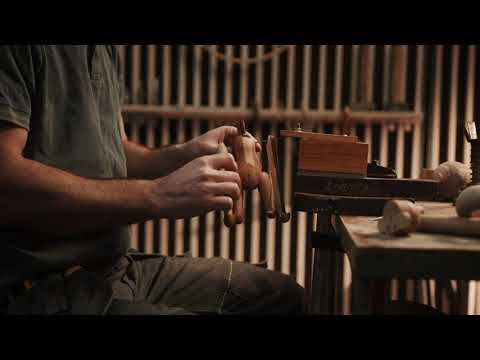 You will earn Rewards points.
Why We Chose This
Shortly after Danish silversmith and designer Kay Bojesen created this Wooden Monkey Figure, it was exhibited at a museum in London and before long, it entered the pantheon of classic mid-century toys. While the monkey is Bojesen's most famous toy, he also designed many other wooden animals, including an elephant, daschund, hippo and rabbit. In 1931, Bojesen opened a design store in Copenhagen called Den Permanente, and during the 1950s and '60s this was one of the few places in the world where one could purchase his wooden animals. The original design for the Wooden Monkey was featured in MoMA's 2012 exhibition Century of the Child: Growing by Design, 1900–2000. Bojesen's work was also included in the Museum's 1953 Good Design show.
Authenticity Guarantee
At MoMA Design Store, all of the designs we sell are curator-approved and authentic. We ensure the integrity of our products through research and by working closely with the designers. Our products embody the spirit of good design objects in MoMA's collection. Some of them are actual designs represented in the Museum's collection.
You Might Also Like
Recommendations
Recently Viewed