MoMA Exclusive
Online Only
Lunii My Fabulous Storyteller
Member and other discounts do not apply.
MoMA Exclusive
Online Only
Lunii My Fabulous Storyteller
Member and other discounts do not apply.
MoMA Exclusive: A step beyond traditional oral tales for children, this tech wonder allows kids to help create a story by choosing various elements—the hero, world, companion and an object—simply and intuitively. This is done by toggling the dial and pushing buttons, as illuminated silhouettes are displayed on the face of the storyteller. Once the elements of the story are chosen, the Storyteller narrates the tale that has been customized by your child. A knob on the side controls the volume. A perfect companion for bedtime or anytime play. For ages 3+. 
Additional stories in different languages can be downloaded for a fee by creating an account on lunii.fr. Languages include French, German, Dutch, Spanish and Italian—with more to come! Rechargeable battery by micro USB included. Mini jack plug for audio input. 4GB (160 stories) capacity. 48 stories in English included.
Designer

Maëlle Chassard

Size

3.5h x 6.5w x 1.75"d

Material

Plastic, Electronic

Year of Design

2014

Origin

China

Age

Kids - 5 and up

Warning

Choking Hazard — Item contains small parts. Not for children under 3.
If for any reason you are not satisfied with your purchase, you may return merchandise within 90 days for a refund in the form of original payment. Learn More.
$7.95 Flat standard shipping fee available. Learn More.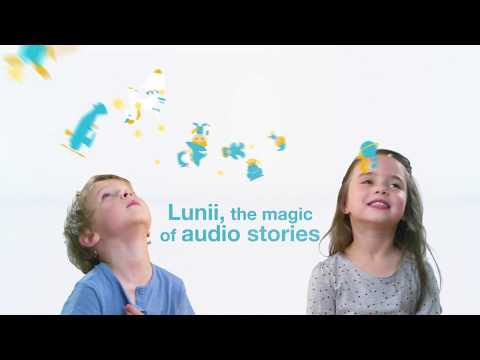 You will earn Rewards points.
Why We Chose This
The initial inspiration for this screen-less, audio storyteller came from an essay written by Lunii's co-founder Maëlle Chassard. The essay explores the reasons why collective and individual imagination is important for kids when growing up. An empowering alternative to TV viewing, Lunii comes with 48 included interactive stories (more can be added via Luniistore) and is a great companion for kids at home or while traveling.
Authenticity Guarantee
At MoMA Design Store, all of the designs we sell are curator-approved and authentic. We ensure the integrity of our products through research and by working closely with the designers. Our products embody the spirit of good design objects in MoMA's collection. Some of them are actual designs represented in the Museum's collection.
You Might Also Like
Recommendations
Recently Viewed