Meater+ Thermometer
Member and other discounts do not apply.
Meater+ Thermometer
Member and other discounts do not apply.
Whether it's your Sunday roast beef or ribs outside in the smoker, you'll be able to achieve the perfect temperature with the Meater+ Thermometer. The world's first completely wire-free smart meat thermometer, the Meater+ has a probe with two sensors: an internal sensor that measures the temperature inside your meat, and an ambient sensor that measures the temperature surrounding your food. Using these two data points, the Meater+'s algorithm estimates the time it will take for your meat to be cooked to your preference. The MEATER+ App will notify you when your meat is ready to be removed from the heat. You can also use the app to monitor your cooking progress from afar and it will offer recommendations for keeping your roast perfect and consistent. The MEATER+ Thermometer is useful for many methods of cooking meat, including roasting, grilling and sous vide. 
Meater+ eliminates the guesswork in cooking, freeing you from hovering around your oven, grill or barbeque, and allowing you to focus on other meal-prepping tasks, or simply to relax. The built-in Bluetooth repeater extends the wireless range up to 165', making it easy for you to walk away and monitor its progress on a phone or tablet. The Meater+ Thermometer is made from stainless steel and ceramic, and includes a charger made from bamboo, a sustainable material. The Meater+ measures 6.25 x 1.5 x 0.9 and includes a charging station that  measures 1.1h x 6.18w x 1.45"d. 
Features of the Meater+ Thermometer include:
Probe:
Bluetooth LE 4.0 wireless connection.

Maximum internal temperature: 212°F (meat).

Maximum ambient temperature: 527°F (cooker).

Stainless steel and ceramic construction.

Water resistant and easy to clean.

Rechargeable for over 24 hours of continuous cooking.
Charger:
Built-in Bluetooth repeater extends range up to 165'.

Store and charge your

Meater+

probe.

Magnetic backing so you can attach it anywhere.

Charges

Meater+

up to 100 times with one AAA battery (included).

Magnetized bamboo charging station attachs to metallic surfaces.

LED indicator displays battery level. 
App 
For iPhone and iPad: app requires iOS 10.3 and later.

For Android: app requires versions 5.0 and later.

The Guided Cook System walks you through every step of the cooking process to guarantee perfect and consistent results. 

The Advanced Estimator Algorithm estimates how long to cook and rest your food, so you can plan your meal and manage your time.
Size

Thermometer:5.1l x 0.25"diam.
Charger:1h x 1.5w x 6"d

Material

Stainless Steel, Ceramic; Bamboo

Origin

Taiwan, Republic of China
If for any reason you are not satisfied with your purchase, you may return merchandise within 90 days for a refund in the form of original payment. Learn More.
$7.95 Flat standard shipping fee available. Learn More.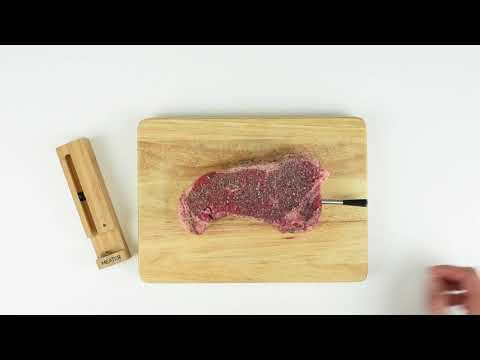 Authenticity Guarantee
At MoMA Design Store, all of the designs we sell are curator-approved and authentic. We ensure the integrity of our products through research and by working closely with the designers. Our products embody the spirit of good design objects in MoMA's collection. Some of them are actual designs represented in the Museum's collection.
You Might Also Like
Recommendations
Recently Viewed