Designed by South Asian queer visual artist Jag Nagra, this watch has a face inspired by Nazar Battu masks that are often placed at the entrances of homes in India to ward off the evil eye. With the creation of the Nazar Battu Watch, Nagra hopes to help you keep similar negative energies at bay.

The face of the watch presents a wonderfully unconventional way of telling time, with a few perks. A circular cut-out reveals the hours as the mask completes two full rotations per day. An image of a scorpion functions as the minute hand, finding its way to the mask's tongue once per hour. At 3:00pm, a lightning bolt is revealed to give the wearer an extra jolt of energy to get you through the rest of the day. At 8:00am and pm, a crescent moon is revealed to transition from morning to mid-morning, or to begin winding down from evening to night. 
"I grew up with the notion of 'nazar' and wanted to create a fashion accessory that you could wear with you all the time to ward off the evil eye," explains Nagra. "Whether you're at the office getting ready for a big presentation, or getting dressed for a wedding, everyone can use a little protection in their day-to-day lives."

The Nazar Battu Watch is made from stainless steel and silicone. It has a 40mm case and a 9.5l band.
Designer

Size

Case: 40mm diam x 8.85mm height

Band: 9.5"l

Material

Case:Stainless Steel

Band: Silicone

Year of Design

2023

Origin

China
This item cannot be shipped outside of the contiguous U.S.
If for any reason you are not satisfied with your purchase, you may return merchandise within 90 days for a refund in the form of original payment. Learn More.
$7.95 Flat standard shipping fee available. Learn More.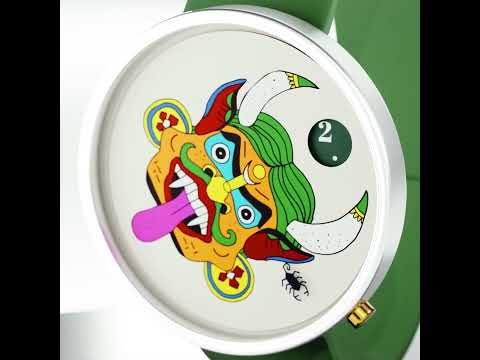 You will earn Rewards points.
What Is Nazar Battu?
"Nazar Battu masks are often placed at the entrances of people's homes in India, or on their trucks or at their places of work to help ward off the evil eye," explains Nagra. "I grew up with the notion of 'nazar' and wanted to create a fashion accessory that you can use as a little bit of protection in your daily life."
Creating the Watch
"I already had a Nazar Battu artwork in my portfolio and wanted to see it come to life on a wrist watch," says Nagra. "I worked closely with Projects Watches to figure out the ins and outs of how the watch was going to be constructed and what was possible as far as configuration and design."
Jag's Artistic Mission
"I see my body of work as a way to create a bridge to help people see beyond their prejudices," explains Nagra. "My goal is to create art that can be experienced and appreciated by individuals from diverse backgrounds and perspectives."
Jag Nagra
Jag Nagra is a queer visual artist who is passionate about community development and ending the stigma against LGBTQ+ people within the South Asian community. She focuses her art practice on concepts that depict a sense of confidence and fearlessness—and she unapologetically celebrates darker skin tones and South Asian garments and motifs.
Authenticity Guarantee
At MoMA Design Store, all of the designs we sell are curator-approved and authentic. We ensure the integrity of our products through research and by working closely with the designers. Our products embody the spirit of good design objects in MoMA's collection. Some of them are actual designs represented in the Museum's collection.
You Might Also Like
Recommendations
Recently Viewed