Ostrichpillow Heating and Cooling Eyemask
Ostrichpillow Heating and Cooling Eyemask
Make self-care a priority with this Heating and Cooling Eye Mask. Developed by the Madrid-based Ostrichpillow, this design continues the brand's mission of offering products that help people sleep and rest more. The Eye Mask provides both heating and cooling comfort, which can help with de-stressing, pain relief, puffy eyes and more. 

Benefits of the Ostrichpillow Heating and Cooling Eye Mask include:

Refreshes and replenishes your eyes while helping you unwind after a long day.

The Eye Mask is filled with natural clay beads that retain heat or cold.

The beads also provide a weighted effect that relieves stress and soothes by applying pressure to key points around your eyelids.

Heated effect increases blood flow

which increases oxygen uptake. It also reduces stress and tension throughout the body, creating a natural comfort and relief state.

Heating effect also stimulates the sensory nerves which causes the feeling of heat in the brain. 

Cold effect decreases blood flow which helps reduce inflammation.

To heat, put the Eye Mask in the included heat back and place in the microwave.

To cool, put the Eye Mask in the included cooling bag and place in the freezer.

The Eye Mask helps alleviate aches, tension, stress, headaches and migraines. 

The Eye Mask provides total blackout for a more restful night of sleep. By blocking exposure to artificial light, it prevents melatonin suppression, which can lead to sleeping disorder.

Soft exterior fabric made from 71% polyester, 27% cotton, 2% spandex with a spandex and nylon elastic band.

Heating bag made from 100% cotton; cooling bag made from frosted EVA.

9l x 4.13h x .78"d.
Size

9l x 4.13h x .78"d

Material

Filling: Natural clay beads

Fabric: 71% polyester, 27 % cotton, 2% spandex, spandex and Nylon elastic band

Bag: 100% cotton and frosted EVA

Year of Design

2022

Origin

China
If for any reason you are not satisfied with your purchase, you may return merchandise within 90 days for a refund in the form of original payment. Learn More.
$7.95 Flat standard shipping fee available. Learn More.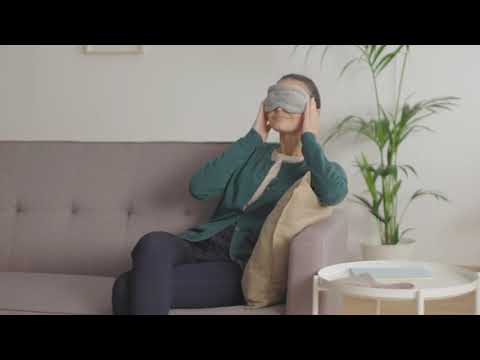 You will earn Rewards points.
Authenticity Guarantee
At MoMA Design Store, all of the designs we sell are curator-approved and authentic. We ensure the integrity of our products through research and by working closely with the designers. Our products embody the spirit of good design objects in MoMA's collection. Some of them are actual designs represented in the Museum's collection.
You Might Also Like
Recommendations
Recently Viewed