Ostrichpillow Heating & Cooling Neck Wrap
Ostrichpillow Heating & Cooling Neck Wrap
The Ostrichpillow Heating & Cooling Neck Wrap is a self-care design that offers both heating and cooling therapy when worn around your neck. Its padded soft-touch jersey shell holds environmentally friendly clay beads, which retain both heat and cold for deep and instant relief as the wrap adapts easily to your neck.

Features of the Ostrich Heating & Cooling Neck Wrap include: 

For heating therapy, place the Neck Wrap in the microwave in the included cotton bag for 60 seconds at max power (1,000W). Make sure any other microwave functions are turned off. 

Heating therapy reduces stress and tensions throughout the body,

creating a natural comfort and relief state. Can be placed directly on skin as fabric cover prevents burning.

For cooling therapy, place the Neck Wrap in the freezer for at least one hour.

Cooling therapy is useful for hot weather, menopausal hot flashes, stress and more.

The heating and cooling therapy offered by the Neck Wrap can also offer comfort and relief from pain. 

Depending on environmental conditions, heat or coolness can last from 20 to 30 minutes.

Neck Wrap is weighted so it stays in place around your neck.

Made from soft-touch jersey (polyester, cotton and spandex).

Hand wash only. 

Filling is environmentally friendly clay beads.

Measures 21.6l x 4.7w x 1.8"d.

Packaging is made from 100% recycled paper that can also be recycled.
Size

21.6l x 4.7w x 1.8"h

Material

Natural clay beads, Polyester, Cotton, and Spandex

Year of Design

2020

Origin

China
If for any reason you are not satisfied with your purchase, you may return merchandise within 90 days for a refund in the form of original payment. Learn More.
$7.95 Flat standard shipping fee available. Learn More.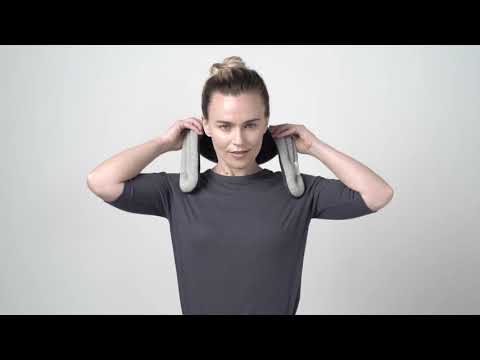 You will earn Rewards points.
Authenticity Guarantee
At MoMA Design Store, all of the designs we sell are curator-approved and authentic. We ensure the integrity of our products through research and by working closely with the designers. Our products embody the spirit of good design objects in MoMA's collection. Some of them are actual designs represented in the Museum's collection.
You Might Also Like
Recommendations
Recently Viewed