Pipamoka Portable Coffee Maker
Pipamoka Portable Coffee Maker
Calling all coffee enthusiasts! Get ready to experience the ultimate portable coffee maker with the Pipamoka by Wacaco. The Pipamoka Portable Coffee Maker was created by the masterminds behind the beloved portable espresso makers, revolutionizing the world of filter coffee on the go. What sets Pipamoka apart is its ingenious twisting mechanism that creates vacuum pressure, allowing you to brew a perfectly balanced cup of coffee in just two minutes. It's as simple as filling the brewer with hot water, adding your favorite ground coffee to the dedicated chamber, and twisting it into the Pipamoka Cup. No batteries or electricity required—it's all hand-held convenience. Plus, with its sleek design by Hugo Cailleton, it's not just a coffee maker; it's a statement piece. Say goodbye to mediocre coffee on the go and say hello to the future of portable brewing. To care for, wipe clean. Measures 7h x 2.8"diam.
Designer

Hugo Cailleton

Size

7h x 2.8"diam.

Material

Stainless steel, PP, PBT

Year of Design

2019

Origin

China
Wipe clean.
This item cannot be shipped outside of the contiguous U.S.
If for any reason you are not satisfied with your purchase, you may return merchandise within 90 days for a refund in the form of original payment. Learn More.
$7.95 Flat standard shipping fee available. Learn More.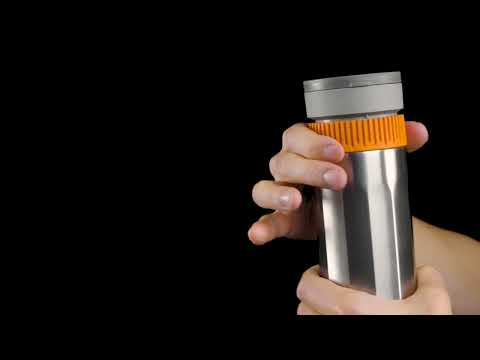 You will earn Rewards points.
Authenticity Guarantee
At MoMA Design Store, all of the designs we sell are curator-approved and authentic. We ensure the integrity of our products through research and by working closely with the designers. Our products embody the spirit of good design objects in MoMA's collection. Some of them are actual designs represented in the Museum's collection.
You Might Also Like
Recommendations
Recently Viewed