PopuPiano Smart Portable Piano
PopuPiano Smart Portable Piano
Whether you're new to playing a keyboard or ready to take your home recording studio to the next level, this all-in-one, rainbow-colored MIDI controller will help you glow up your skills, your studio, and every note you play. The PopuPiano has a smart LED keyboard and a powerful chord pad that helps you master melody, chords and rhythm in one device. Aimed at learners of all ages and levels, the PopuPiano isn't just a lightweight, portable piano—it's also a new system for learning keyboard playing and music composition. Let its LED key lights show you how to play scales, rhythm or melody, or simply jump right in and start producing your own compositions. Pair it with the free PopuMusic app for a host of tutorials and games, including new pop songs that are uploaded regularly.

Features of the PopuPiano Smart Portable Piano include:

29-key tonic keyboard plus multifunctional chord pad

(One 29 keys and one 6 keys chord pad).

Pre-recorded instrument sounds.

Compatible with GarageBand as well as Logic, Cubase and other professional arrangement software that works with standard MIDI keyboards.

2200mAh lithium battery charges in about 1.5 hours via USB-C cable (included).

Bluetooth 5.0 BLE, supports Bluetooth MIDI.

Compatible with Apple iOS11+, iPhone 6S+, iPadAir2+, Android 8.0+.

Language support in English, Simplified and Traditional Chinese, Japanese and Korean.

Measures 18.3l x 4.8w x 1.3"h.
Designer

Yan Zhao and Shichuan Luo

Material

ABS, PMMA, PC, Silicone, PVC, PU Bag

Year of Design

2022

Origin

China
If for any reason you are not satisfied with your purchase, you may return merchandise within 90 days for a refund in the form of original payment. Learn More.
$7.95 Flat standard shipping fee available. Learn More.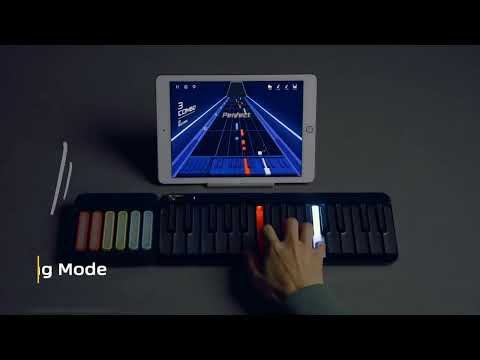 You will earn Rewards points.
Authenticity Guarantee
At MoMA Design Store, all of the designs we sell are curator-approved and authentic. We ensure the integrity of our products through research and by working closely with the designers. Our products embody the spirit of good design objects in MoMA's collection. Some of them are actual designs represented in the Museum's collection.
You Might Also Like
Recommendations
Recently Viewed