The Prism Flip Kite is a kaleidoscopic design that brings mesmerizing spinning action to your kite-flying experience. Just flip the sail of this ripstop polyester kite to start the rotor and let the wind do the rest. The kite gets a lift from the Magnus Effect, the same principle that makes baseballs curve and golf balls loft.
The vertical ring acts as a gyroscope to hold it steady in all kinds of winds. As the wing spins, the colors blur. Fun fact: The designer, Steve Wingert, created this kite on the dunes where the Wright Brothers first flew. Includes 200' of flying line. Ages 13+. Flat, the Prism Flip Kite measures 22l x 17"w.
Founded by a pair of designers, sailors, and aviators who just wanted to have fun, Prism Designs has been teaching the world that kites aren't just for kids since 1992.
Designer

Mark Reed and Steve Wingert

Size

Flat: 22l x 17"w

Material

Ripstop polyester, Pultruded carbon fiber, Pultruded fiberglass, Molded polypropylene, Braided Dacron

Year of Design

2008

Origin

China
If for any reason you are not satisfied with your purchase, you may return merchandise within 90 days for a refund in the form of original payment. Learn More.
$7.95 Flat standard shipping fee available. Learn More.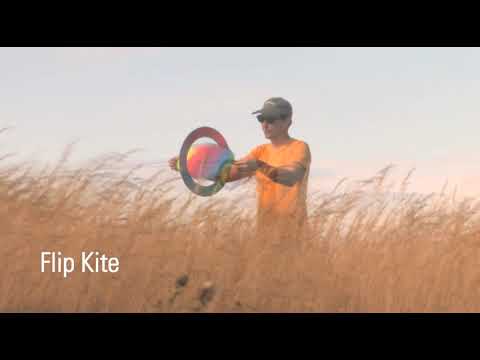 You will earn Rewards points.
Authenticity Guarantee
At MoMA Design Store, all of the designs we sell are curator-approved and authentic. We ensure the integrity of our products through research and by working closely with the designers. Our products embody the spirit of good design objects in MoMA's collection. Some of them are actual designs represented in the Museum's collection.
You Might Also Like
Recommendations
Recently Viewed