MoMA Exclusive: The first mobile ever created by the prolific Danish designer Ole Flensted, the Rainbow Futura was named after the typeface as well as for Flensted's own vision for his future—one that was realized in 1982, when he and his wife Aase took over Flensted Mobiles, the company his father had founded thirty years earlier. Flensted's lifelong concentration on movement and balance are exemplified here in his first design, in which thin steel bars and heavy beechwood balls create a dramatic tension, catching the eye and evoking interest and creativity. Designed to move with air currents in a calm, balanced manner, this stately mobile will be enjoyed by children and adults alike. This rainbow-colored version of the Futura Mobile is made exclusively for MoMA in Denmark, and measures 14h x 30" diam.
Designer

Ole Flensted

Size

14h x 30" diam.

Material

Wooden Balls, Steel Bars, Cotton Thread

Year of Design

1970

Origin

Denmark
If for any reason you are not satisfied with your purchase, you may return merchandise within 90 days for a refund in the form of original payment. Learn More.
$7.95 Flat standard shipping fee available. Learn More.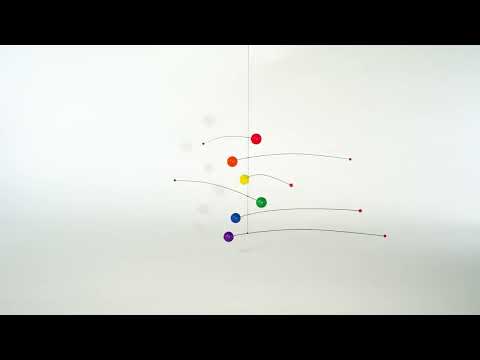 You will earn Rewards points.
Authenticity Guarantee
At MoMA Design Store, all of the designs we sell are curator-approved and authentic. We ensure the integrity of our products through research and by working closely with the designers. Our products embody the spirit of good design objects in MoMA's collection. Some of them are actual designs represented in the Museum's collection.
You Might Also Like
Recommendations
Recently Viewed