Roland Aira Compact E-4 Voice Tweaker
Member and other discounts do not apply.
Roland Aira Compact E-4 Voice Tweaker
Member and other discounts do not apply.
Perfect for budding vocal artists or seasoned veterans, the Roland E-4 Voice Tweaker is an outrageously jammable box of fun that harmonizes, auto-pitches, vocodes, loops, and glitches your voice and any other audio you feed it. Flip through hands-on controls to manipulate the sound, and chain together additional AIRA Compacts and other electronic instruments to let them ride in perfect sync.

The E-4 is part of an all-new series of ultra-portable, rechargeable instruments with free-flowing features for creative exploration and authentic Roland sounds that bring serious musical power to everyone from hobbyists and gadget collectors to tech-savvy pros. Jam, perform, and develop ideas on the go with friendly controls, inspiring sounds, and loads of intuitive music tools. Users can realize complete compositions with a single unit or expand their possibilities by connecting and synchronizing with other AIRA Compact models. From one master unit, multiple AIRA Compacts can be mixed and monitored with headphones or an external speaker system. It's also possible to interface with computer DAWS, mobile music apps, and hardware instruments via USB-C or MIDI.

Features of the Roland Aira Compact E-4 Voice Tweaker include:


Vocal performance tool with powerful voice transformer effects.

Instantly shape the sound with pitch and formant sliders.

Advanced vocal effects including Auto Pitch, harmony, and vocoder.

Dial up unique rhythmic effects with the Scatter knob.

Process the sound output with high-quality reverb, echo, tempo delay, and chorus effects.

Low-cut filter and noise gate to eliminate unwanted sounds.

24-second looper with unlimited overdubbing, undo/redo, and automatic BPM detection.

Supports external MIDI control of pitch, harmony, and vocoder functions.

¼-inch mic input with wide-ranging gain control.

Headphones output with support for an inline mic.

Comprehensive connectivity with audio, MIDI, and sync I/O plus AIRA Link.

Class-compliant USB-C audio/MIDI interface—no drivers needed.

Lithium-ion battery with up to 3.5 hours of operation per 3-hour charge.

Sturdy construction and robust controls.

Connect to other AIRA Compacts and standard MIDI devices with optional BOSS TRS MIDI cables.

Includes a USB-C to USB-A cable.

Sync (in, out) jacks: Miniature phone type.

Mix (in, out) / headset jacks: Stereo miniature phone type (Stereo, CTIA).

MIDI (in, out) jacks: Stereo miniature phone type.

Mic in jack: Stereo phone type.

Measures

1.7h x 7.45w x 1.25"d.
Size

1.7h x 7.45w x 1.25"d

Material

Plastic, Rubber, Electronics

Year of Design

2022

Origin

China
If for any reason you are not satisfied with your purchase, you may return merchandise within 90 days for a refund in the form of original payment. Learn More.
$7.95 Flat standard shipping fee available. Learn More.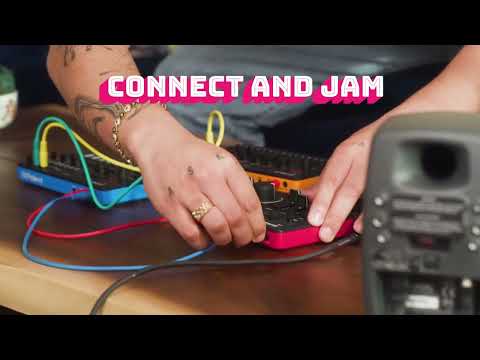 You will earn Rewards points.
Authenticity Guarantee
At MoMA Design Store, all of the designs we sell are curator-approved and authentic. We ensure the integrity of our products through research and by working closely with the designers. Our products embody the spirit of good design objects in MoMA's collection. Some of them are actual designs represented in the Museum's collection.
You Might Also Like
Recommendations
Recently Viewed