Roland Aira Compact J-6 Chord Synthesizer
Member and other discounts do not apply.
Roland Aira Compact J-6 Chord Synthesizer
Member and other discounts do not apply.
An endless well of portable musical inspiration, the J-6 pairs a powerful chord sequencer with the lavish tones of the renowned JUNO-60 synth that was first manufactured by Roland in 1982 and featured in 80s hits like "Take on Me" and "Time After Time." Generate soul-stirring song ideas in seconds, and experiment with styles and variations to coax dancing lines and rhythmic patterns from your chords. Add lush effects to your sound, and expand your possibilities by interfacing with other AIRA Compacts, MIDI hardware, and music production software.

The J-6 is part of an all-new series of ultra-portable, rechargeable instruments with free-flowing features for creative exploration and authentic Roland sounds that bring serious musical power to everyone from hobbyists and gadget collectors to tech-savvy pros. Jam, perform, and develop ideas on the go with friendly controls, inspiring sounds, and loads of intuitive music tools. Users can realize complete compositions with a single unit or expand their possibilities by connecting and synchronizing with other AIRA Compact models. From one master unit, multiple AIRA Compacts can be mixed and monitored with headphones or an external speaker system. It's also possible to interface with computer DAWS, mobile music apps, and hardware instruments via USB-C or MIDI.

Features of the Roland Aira Compact J-6 Chord Synthesizer include:


Portable song creation machine with professional Roland sound and features.

Draw from 100 chord sets spanning classic and contemporary music genres.

Add arpeggios and rhythmic phrases to chords via nine styles with 12 variations in each.

Programmable chord sequencer with 64 user patterns and up to 64 steps in each.

Four-voice JUNO-60 synth engine with authentic sound realized through Analog Circuit Behavior (ACB) technology.

Includes 64 ready-to-play synth presets derived from the original JUNO-60.

Filter and envelope controls for shaping synth sounds in real time.

High-quality delay and reverb effects with customizable settings.

Comprehensive connectivity with audio, MIDI, and sync I/O plus AIRA Link.

Class-compliant USB-C audio/MIDI interface—no drivers needed.

Lithium-ion battery with up to 4.5 hours of operation per 3-hour charge.

Sturdy construction and high-quality rubber pads.

Connect to other AIRA Compacts and standard MIDI devices with optional BOSS TRS MIDI cables.

Includes a USB-C to USB-A cable.

Sync (in, out) jacks: Miniature phone type.

Mix Sync (in, out) / phones jacks: Stereo miniature phone type.

MIDI (in, out) jacks: Stereo miniature phone type.

Measures

1.7h x 7.45w x 1.25"d

.
Size

1.7h x 7.45w x 1.25"d

Material

Plastic, Rubber, Electronics

Year of Design

2022

Origin

China
If for any reason you are not satisfied with your purchase, you may return merchandise within 90 days for a refund in the form of original payment. Learn More.
$7.95 Flat standard shipping fee available. Learn More.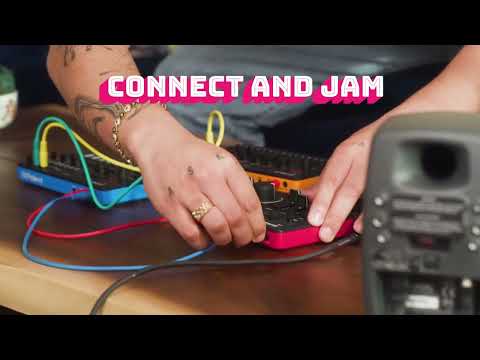 You will earn Rewards points.
Authenticity Guarantee
At MoMA Design Store, all of the designs we sell are curator-approved and authentic. We ensure the integrity of our products through research and by working closely with the designers. Our products embody the spirit of good design objects in MoMA's collection. Some of them are actual designs represented in the Museum's collection.
You Might Also Like
Recommendations
Recently Viewed