Samsung The Freestyle HDR Smart Portable Projector (2022)
Member and other discounts do not apply.
Samsung The Freestyle HDR Smart Portable Projector (2022)
Member and other discounts do not apply.
Take the big screen experience to go with The Freestyle. This smart theater-to-go moves to where the action is. Just point and play on the wall, ceiling or even your table. The Freestyle automatically sets up your best picture experience, adjusting focus, keystone and leveling—at the image size you want, anywhere from 30-100 inches. You'll be set to stream your shows using the Smart TV capabilities, check your social feed, play games, and hear it all in rich 360 sound. Measures 9.5h x 6" diam.

Full features of The Freestyle Smart Portable Projector include:

Point and Play
Place it, tilt it and watch it wherever. With a cradle stand that rotates almost 180 degrees, position your image where you want from floor to ceiling.

Easy Setup
Sit back and let The Freestyle manage the setup. Once you find your angle, this portable smart theater-to-go automatically adjusts the image for your perfect picture. Auto Leveling, Auto Focus and Auto Keystone technology does the work—all in seconds.
360 Sound
Hear 360-degree audio that fills the room from this small but mighty smart theater-to-go. High-quality sound resonates from the speaker and bass enhancers.
Smart Entertainment
Stream your favorite shows. Play games. Work out with a trainer. Discover your must-have apps and streaming services just a few clicks away.
Smart Connectivity
Includes Samsung SmartHub by Wi-Fi; additional external content by Micro HDMI port and compatible devices with AirPlay 2,, and 'SmartThings' Tap View.
External Battery Compatible
Now the big screen experience is as mobile as you are. Just grab The Freestyle with an external battery pack and go. With no outlet needed, you're free to watch your favorite shows, play games or whatever you want, anywhere you want—indoors or out. Requires supplied USB Type C cable connection or external battery (sold separately) that are USB-PD and 50W/20V output or above.
Scale and Move Screen
Need to move your image? There's no need to move The Freestyle. When the wall or your surface isn't quite right, this smart theater-to-go makes it easy to shrink down the image, move it around and project from 100 to 30 inches.
Full HD Smart Calibration
Watch in Full High Definition with The Freestyle, 2x sharper than other personal projectors with HD. With 1080 x 1920 resolution, you can sit up closer than with HD, making everything larger, crisper and clearer.
Big Screen Experience
Enjoy your screen the way the director intended—in a couple of clicks. With Smart Calibration, you have professional-quality screen calibration at your fingertips. Simply enhance your screen right from your smartphone in only 7 to 12 minutes. Compatible with: Galaxy models released after January 2019, S, Note, Fold, Z Flip model; iPhone products released after January 2019 and with Face ID function.
Year of Design

2022

Origin

Taiwan, Republic of China
This item cannot be shipped outside of the contiguous U.S.
If for any reason you are not satisfied with your purchase, you may return merchandise within 90 days for a refund in the form of original payment. Learn More.
$7.95 Flat standard shipping fee available. Learn More.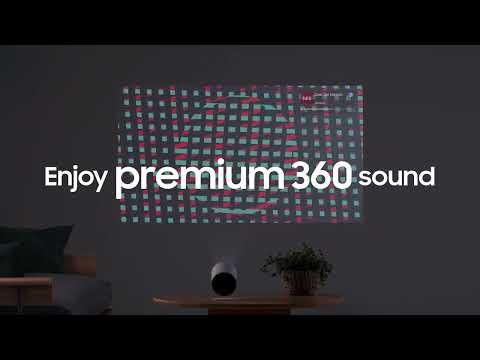 You will earn Rewards points.
A Theater-to-Go
Project anywhere on any color wall. It's portability lets you take your entertainment to a backyard and camping trips where you can project on a portable screen or sheet.
Choose Your Projection Size
Project your favorite shows and movies in 1080 x 1920 resolution with an image that's 30 to 100 inches.
360-Degree Sound
This small but mighty smart projector produces high-quality sound that resonates from the speaker and bass enhancers to fill your room.
Authenticity Guarantee
At MoMA Design Store, all of the designs we sell are curator-approved and authentic. We ensure the integrity of our products through research and by working closely with the designers. Our products embody the spirit of good design objects in MoMA's collection. Some of them are actual designs represented in the Museum's collection.
You Might Also Like
Recommendations
Recently Viewed