This Sheep Hanging Mobile is a beloved design created by Christina Parrett and Ole Flensted for MoMA in 1988. This delightful mobile brings a sense of whimsy and charm to any space, capturing the essence of a playful flock in mid-air. Crafted with meticulous attention to detail, each sheep is cut from serigraphic foil and delicately suspended from a sturdy metal frame. As a breeze blows by, the sheep gracefully dance and twirl, creating a mesmerizing display of movement. Hang this endearing mobile in a nursery, living room, or any room in need of a touch of delight. A timeless classic that continues to capture hearts, the Sheep Hanging Mobile is a true testament to the power of design and its ability to evoke joy and wonder. To clean, gently wipe with a damp or dry cloth. The Sheep Hanging Mobile measures 16h x 17"w when displayed.
Designer

Christina Parrett & Ole Flensted for MoMA

Size

16h x 17"w

Material

Serigraphic Foil

Year of Design

1988

Origin

Denmark
If for any reason you are not satisfied with your purchase, you may return merchandise within 90 days for a refund in the form of original payment. Learn More.
$7.95 Flat standard shipping fee available. Learn More.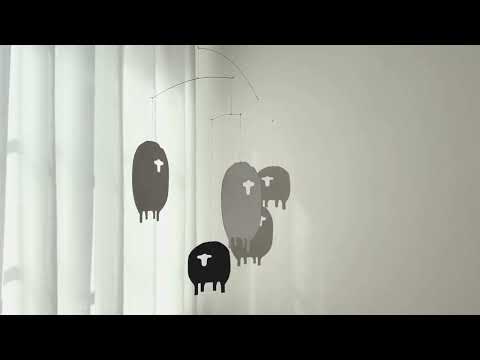 You will earn Rewards points.
Authenticity Guarantee
At MoMA Design Store, all of the designs we sell are curator-approved and authentic. We ensure the integrity of our products through research and by working closely with the designers. Our products embody the spirit of good design objects in MoMA's collection. Some of them are actual designs represented in the Museum's collection.
You Might Also Like
Recommendations
Recently Viewed