Solo Stove Fire Pit with Stand
Member and other discounts do not apply.
Solo Stove Fire Pit with Stand
Member and other discounts do not apply.
Bring campfire ambiance to your outdoor gatherings with the Solo Stove Fire Pit, a stainless-steel wood-burning design. The holes at the base of the stove feed oxygen directly to the embers, so wood burns fast and hot without spewing ash. Vent holes near the top allow pre-heated oxygen to fuel the flame for a hotter fire with less smoke. 

Features of the Solo Stove Fire Pit with Stand include:

Made for use in your backyard or at campsites. 

Compact and portable design.

360° Airflow Design™ creates a super-efficient secondary burn, with a significant decrease in smoke compared to other fire pits.

Firewood always burns to a fine ash and catches in the circling ash pan at the base, making the Solo Stove easy to clean. It's recommended to remove the ash every five or so fires to prevent ash buildup.

For a deeper cleaning, customers can use a dry cotton cloth. Using an abrasion pad or any other coarse utensil is not recommended as it could scratch the exterior.

Fire ring at the top is designed to keep the fire centered and even.

Any type of firewood log can be used, but for optimum efficiency dry hard woods are recommended. Hardwoods such as birch, maple, hickory and oak will burn longer than softwoods. Ranger burns logs up to 12" long; Bonfire burns up to 16".

Recommend using 4–6 logs. To minimize smoke and optimize your flame, don't fill the wood above the holes at the top of the fire pit.

Ranger with Stand measures 12.5h x 15"diam. and weighs 15 lbs.

Bonfire with Stand measures 14h x 19.5"diam and weighs 20 lbs.

Solo Stove Fire Pit will be extremely hot when in use. Children should always be under parental supervision.

Made from 304 stainless steel.

In general, the Solo Stove is not made for cooking, however you can use it to roast marshmallows or hot dogs on sticks/skewers held over the flame. 

To clean, after your Ranger is cool, turn it upside down to empty any remaining ashes left in your stove. 

Keep your Solo Stove in a cool and dry place when not in use. Should not be left in the rain uncovered as there is no drainage from inside the fire pit and water will gather.

For outdoor use only. 
Designer

Jeff and Spencer Jan

Size

Ranger:12.5h x 15"diam.
Bonfire:14h x 19.5"diam.

Material

304 Stainless Steel

Year of Design

2010

Origin

China
Special shipping charge of $25.00
This item is final sale and non-returnable.
$7.95 Flat standard shipping fee available. Learn More.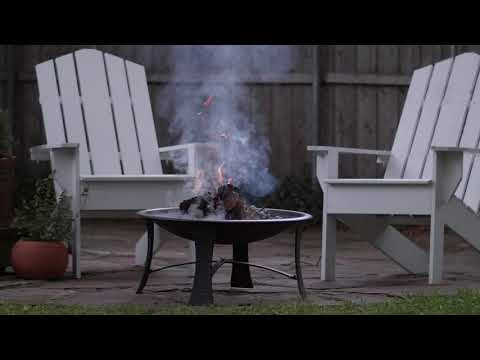 You will earn Rewards points.
Why We Chose This
The Solo Stove's innovative 360° Airflow Design™ technology pulls rising hot air through vent holes located on the stove's bottom, fueling the fire at its base while providing a boost of preheated air through the vent holes on top. The stove's precision base plate allows oxygen to be fed directly to embers from below. As a result, biofuel burns faster and hotter as spent ash falls out of the process instead of spewing forth.
Authenticity Guarantee
At MoMA Design Store, all of the designs we sell are curator-approved and authentic. We ensure the integrity of our products through research and by working closely with the designers. Our products embody the spirit of good design objects in MoMA's collection. Some of them are actual designs represented in the Museum's collection.
You Might Also Like
Recommendations
Recently Viewed