Stylophone S1 Pocket Synthesizer
Stylophone S1 Pocket Synthesizer
Manufactured by Dubreq since 1968 and producing a unique sound featured in classic hits by everyone from David Bowie to the White Stripes, the portable Stylophone S1 Pocket Synthesizer retains all the features from the original Stylophone, but with up-to-date technology. Tap and slide on the keys with the stylus to play your favorite songs, and use the knob to tune the Stylophone or to create pitch-bend effects. Easy to use and perfect for beginners, the portable Stylophone requires three AA batteries (not included). 

Features of the Stylophone S1 Pocket Synthesizer include:

Retro design and chrome grille.

Portable, built-in speaker.

Vibrato and tone switches.

Tuning control.

3-octave range.

3.5mm line out and headphone jack.

Faithful digital recreation of the original analog sounds, plus two new sounds.

Updated features include audio passthrough, allowing you to amplify its sounds through your connected receiver via a line-out jack, and volume control.

Requires three AA batteries (not included). 

Made of plastic.

Measures 1.6h x 6.3w x 3.8"d.
Size

1.6h x 6.3w x 3.8"d

Material

Plastic

Year of Design

1968

Origin

China
If for any reason you are not satisfied with your purchase, you may return merchandise within 90 days for a refund in the form of original payment. Learn More.
$7.95 Flat standard shipping fee available. Learn More.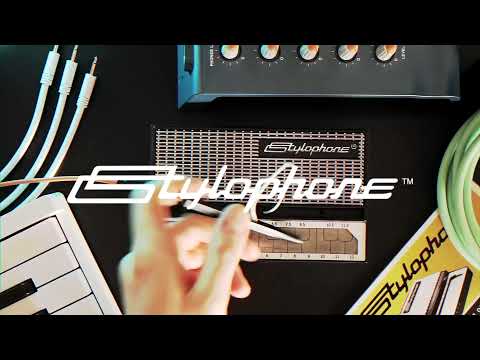 You will earn Rewards points.
Why We Chose This
Invented in 1967 by Brian Jarvis, the Stylophone was the first pocket synthesizer on the market. This analog innovation has a metal keyboard that's made from a printed circuit board, with each stylus-played note connected to a voltage-controlled oscillator. Because of its lo-fi charm and quirky retro-futuristic sound, the Stylophone has endured as a musical icon and has been used over the decades by legions of musicians, including David Bowie, Kraftwerk (on their 1981 song "Pocket Calculator"), legendary music producer Tony Visconti and They Might Be Giants.
Authenticity Guarantee
At MoMA Design Store, all of the designs we sell are curator-approved and authentic. We ensure the integrity of our products through research and by working closely with the designers. Our products embody the spirit of good design objects in MoMA's collection. Some of them are actual designs represented in the Museum's collection.
You Might Also Like
Recommendations
Recently Viewed