Tempo Drop Storm Glass Weather Forecaster
Tempo Drop Storm Glass Weather Forecaster
Inspired by the 19th-century storm glass used by ship's navigators, the Tempo Drop Storm Glass is an exquisite teardrop-shaped glass container, thoughtfully designed to react to temperature changes with mesmerizing crystallization patterns. A nod to nautical history, this beautiful objet d'art evokes memories of Jules Verne's famous novel 20,000 Leagues Under the Sea.
The Tempo Drop's weather prediction capabilities may remain a mystery, but its enchanting crystallization patterns are an undeniable delight to behold. Whether you're a nautical enthusiast or simply appreciate steampunk aesthetics, this stunning storm glass is sure to captivate your senses.
Install the Tempo Drop in your home office, living room, bedroom-nearby a window for most dramatic results-to infuse your surroundings with a touch of timeless charm. The interplay of light and crystals against the glass is a visual spectacle that sparks conversations and adds intrigue to any setting.
Indulge in the timeless allure of the Tempo Drop Storm Glass, an exquisite masterpiece crafted to enrich your space with its unique beauty and historical significance. Please note that the Tempo Drop Storm Glass is not meant to be used as an accurate weather forecaster.


Features of the Tempo Drop Storm Glass include:


Crafted with precision by skilled glass artisans.

Teardrop-shaped glass container sealed with ethanol, natural camphor, and other materials.

Captivating crystallization and melting reactions in response to temperature fluctuations.

Mounted on a handsome walnut base for an added touch of elegance.

Each Tempo Drop is unique, with slight variations in shape and potential small bubbles or air, showcasing its handcrafted charm.

Tempo Drop measures 8.3h x 4.5w x 4.5"d.
Designer

Takeshi Ogawa

Size

With Wooden Base: 8.3h x 4.5w x 4.5"d

Material

Wood, Glass

Year of Design

2012

Origin

China
This item cannot be shipped outside of the contiguous U.S.
If for any reason you are not satisfied with your purchase, you may return merchandise within 90 days for a refund in the form of original payment. Learn More.
$7.95 Flat standard shipping fee available. Learn More.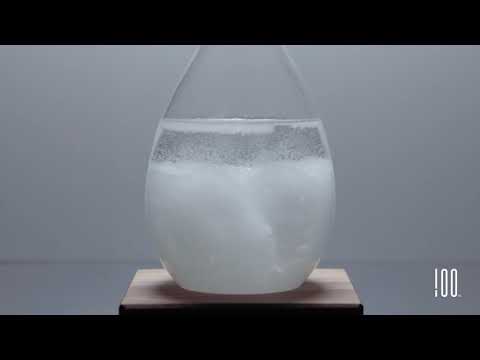 You will earn Rewards points.
Authenticity Guarantee
At MoMA Design Store, all of the designs we sell are curator-approved and authentic. We ensure the integrity of our products through research and by working closely with the designers. Our products embody the spirit of good design objects in MoMA's collection. Some of them are actual designs represented in the Museum's collection.
You Might Also Like
Recommendations
Recently Viewed