Timex T80 x Space Invaders Watch
Timex T80 x Space Invaders Watch
It's like a digital marriage made in outer space. In 1978, the seminal arcade video game Space Invaders—developed by Tomoshiro Nishikado and manufactured by Taito—was released. It was around this same time that watch brand Timex began offering their first digital watches. In homage to these two digital icons, Timex has introduced this watch—a special edition of their T80 style, featuring a face adorned with the colorful pixelated creatures of Space Invaders. The screen has a classic LCD charm that evokes memories of high school calculators. Space Invaders is represented in MoMA's collection. 

Features of the Timex T80 x Space Invaders Watch include:

34mm black stainless steel expansion watch band.

INDIGLO Light Up Watch Dial.

Chronograph.

Alarm.

Water-resistant up to 30m.

Easy-to-read iridescent tint, large blocky numerals.

Space Invaders edition of the T80 Watch from the 1980s. 
Size

Case: 34 mm

Band: Adjustable

Material

Brass, acrylic

Year of Design

2022

Origin

China
If for any reason you are not satisfied with your purchase, you may return merchandise within 90 days for a refund in the form of original payment. Learn More.
$7.95 Flat standard shipping fee available. Learn More.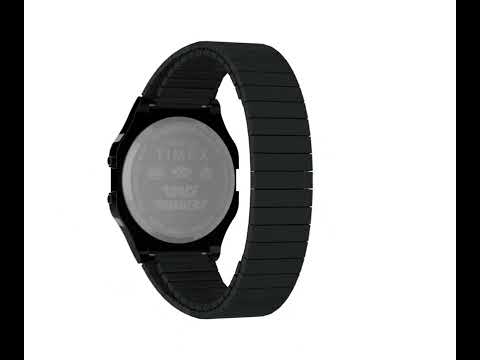 You will earn Rewards points.
Why We Chose This
A design in MoMA's collection, Space Invaders was created in 1978 by Tomohiro Nishikado and grew out of what was already a rich arcade culture in Japan. When it was first released, the Japanese public was so captivated by Space Invaders that it led to a temporary nationwide shortage of 100-yen coins. Today the game enjoys enduring popularity and is a quintessential example of what makes video games important cultural artifacts and outstanding examples of interaction design.
Authenticity Guarantee
At MoMA Design Store, all of the designs we sell are curator-approved and authentic. We ensure the integrity of our products through research and by working closely with the designers. Our products embody the spirit of good design objects in MoMA's collection. Some of them are actual designs represented in the Museum's collection.
You Might Also Like
Recommendations
Recently Viewed