Tota Easy-Empty Laundry Basket
Tota Easy-Empty Laundry Basket
Make laundry day easier with the dual-function Tota Easy-Empty Laundry Basket. The basket features two compartments for easy separation of light and dark clothes, and each one contains a removable bag with a double-strap handle so you can carry your dirty laundry to your washing machine or the laundromat. The bags are designed with a self-locate fit for a fast return to their compartments. The design comes flat-packed and is easy to assemble.

Features of the Tota Easy-Empty Laundry Basket include:

2 compartments for easy separation of clothes.

Removable cotton bags with carry handles. 

Fast return—bags self-locate back into basket.

Helper handle on base makes emptying easy. 

2 washable bags.

Made from

carbon steel, nylon, polyester, cotton & thermoplastic.

Assembled it measures 28h x 15.75w x 15.75"d.
Size

28h x 15.75w x 15.75"d

Year of Design

2020

Origin

China
This item cannot be shipped outside of the contiguous U.S.
If for any reason you are not satisfied with your purchase, you may return merchandise within 90 days for a refund in the form of original payment. Learn More.
$7.95 Flat standard shipping fee available. Learn More.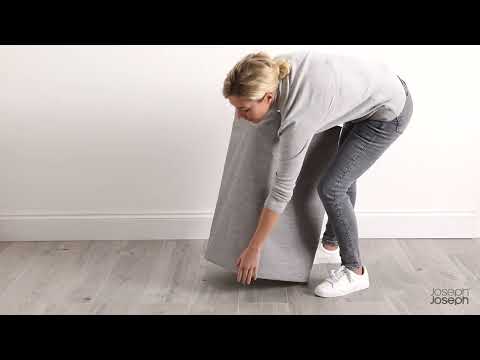 You will earn Rewards points.
Authenticity Guarantee
At MoMA Design Store, all of the designs we sell are curator-approved and authentic. We ensure the integrity of our products through research and by working closely with the designers. Our products embody the spirit of good design objects in MoMA's collection. Some of them are actual designs represented in the Museum's collection.
You Might Also Like
Recommendations
Recently Viewed