Travel Bottles in Recycled Plastic - Set of 2
Travel Bottles in Recycled Plastic - Set of 2
Made by Ries, a Black-owned brand founded by Megan Graham, the idea for these travel bottles was developed over a decade ago. "When I was working as a trend forecaster, I was constantly flying around the country—and keeping myself looking fashionable was an ordeal," says Graham. "As a curly haired woman of color, the products I was using didn't come in a travel size and there was no way a 2-in-1 hotel shampoo/conditioner would be coming anywhere near my hair. I knew there had to be a better way."

This set of two Ries Travel Bottles are made to be used with lotions, creams, gels, soaps and shampoos—including heavier or thicker products, making the bottles "more inclusive of people of color and the products we use." (Please note that even though the bottles are labeled "Shampoo" and "Conditioner" they can be used for other thicker products.) A more elevated alternative to disposable product bottles, or cheaply made reusable bottles produced from virgin plastic, Ries Travel Bottles are made with FDA-approved recycled plastics that are safe for skin and hair. 

Features of the Travel Bottles Set include:


Two 1.7oz bottles.

Made from recycled plastic.

Silicone-free.

Leak-tight dual locking system.

Airless pump.

Generous opening for easy replenishing.

Label-free.

TSA-compliant.

Perfect for packing lotions, creams, gels, soaps & shampoos.

Not recommended for lighter products, such as contact lens solution, saline solution or body oils.

Dishwasher-safe.

Each bottle measures 3.7h x 1.8"w. 
Designer

Samantha Rose

Size

3.7h x 1.8"w

Material

FDA-approved recycled plastics (PCR)

Year of Design

2022

Origin

China
This item cannot be shipped outside of the contiguous U.S.
If for any reason you are not satisfied with your purchase, you may return merchandise within 90 days for a refund in the form of original payment. Learn More.
$7.95 Flat standard shipping fee available. Learn More.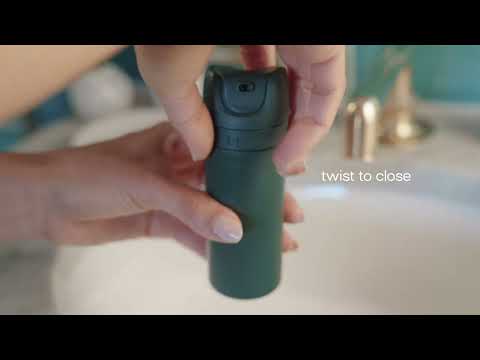 You will earn Rewards points.
Authenticity Guarantee
At MoMA Design Store, all of the designs we sell are curator-approved and authentic. We ensure the integrity of our products through research and by working closely with the designers. Our products embody the spirit of good design objects in MoMA's collection. Some of them are actual designs represented in the Museum's collection.
You Might Also Like
Recommendations
Recently Viewed