Unistellar eVscope 2 Smart Telescope with Tripod
Member and other discount do not apply.
Unistellar eVscope 2 Smart Telescope with Tripod
Member and other discount do not apply.
The universe has never felt so close. With the user-friendly Unistellar eVscope 2 Smart Telescope, both novice astronomers and professional stargazers can develop their skills with this portable design that's the most powerful smart telescope in the market. The Unistellar can hop from one object to the next as it collects valuable scientific data to help you understand the wonders of space. 

Leveraging Nikon's pioneer expertise in electronic eyepiece, the eVscope 2 delivers the most stunning visual experience ever seen in a consumer telescope. Its state-of-the-art observing comfort, and an incredible amount of details, definition and zoom ability,
offers fast, sharp and colorful views of galaxies, nebulae, comets, asteroids, supernovae and other fascinating astronomical phenomena.


Observe through the eyepiece or screen of your smartphone and tablet. Take amazing photos, share them with your community or participate in Citizen Science missions with Unistellar's networks of professional astronomers.

Features of the Unistellar eVscope 2 Smart Telescope include:


Unistellar's proprietary technologies (Enhanced Vision, Automated Field Detection, Light Pollution Reductio

Highest definition of any digital telescope, delivering an incredible amount of pin-sharp detail.

The electronic eyepiece developed by Nikon offers immersive observation with rich contrast, with optimum observing comfort and eye relief. 

All-in-one design with amplified vision, automated field detection and photography capabilities, all controlled by an IOS/Android app.

Observe over 5,000 deep-sky objects that are automatically recognized and identified by name, distance from Earth and more.

Field of view is wide enough to allow you to view the largest deep-sky objects such as the majestic  Orion nebula in crisp detail. 

Low-light, high-resolution sensor captures light from objects located millions of light years from Earth.

Smart light pollution reduction allows distant objects to be observed, even from bright inner-city environments by filtering and removing unwanted light.

Dedicated app recommends that most spectacular targets and launches into deep-space observations in minutes.

Up to 12 people can connect via the app and view a space event on their mobile devices.

Portable design weights only 19.8 lbs including the tripod.

Rechargeable Li-ion battery that's charged via USB-C 

 Fully charges in approx. 4 hours for 10 hours of continuous use. 

Includes USB-C charger & 3 converters (US, Europe & UK).

64 GB storage capacity.

Includes transportation backpack made from touch reinforced fabric and high-density foam that's carefully designed to fit snuggly to the eVscope 2.

Telescope measures 9h x 25.6"l without tripod. 

Tripod measures 1.96' when folded. 
Designer

Philippe Arnaud

Size

Without Tripod 25.6h x 9.05" diam.

Material

Aluminum, Stainless Steel, Brass, PC Plastic, Silicon, Glass Lens

Year of Design

2021

Origin

China
This item is final sale and non-returnable.
$7.95 Flat standard shipping fee available. Learn More.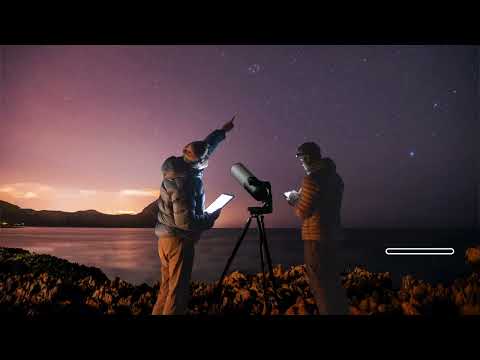 You will earn Rewards points.
Why We Chose This
The eVscope is the most powerful and easy-to-use smart telescope on the market—and we chose it because it's a design that has democratized astronomy. Thanks to partnerships with key scientific organizations, Unistellar has created a telescope that allows users to become citizen scientists, enabling them to contribute to research on exoplanets, asteroids, comets and other deep-sky objects.
Authenticity Guarantee
At MoMA Design Store, all of the designs we sell are curator-approved and authentic. We ensure the integrity of our products through research and by working closely with the designers. Our products embody the spirit of good design objects in MoMA's collection. Some of them are actual designs represented in the Museum's collection.
You Might Also Like
Recommendations
Recently Viewed