Veritable® Smart Indoor Garden
Member and other discounts do not apply.
Veritable® Smart Indoor Garden
Member and other discounts do not apply.
Designed for people who love to cook, the Veritable® Smart Indoor Garden allows you to effortlessly grow herbs, edible flowers and even small vegetables in your home, all year round. The Smart Indoor Garden provides optimum space for your plants to grow under the best conditions. The planter's small footprint provides a substantial amount of plant production (you can grow four different types of plants simultaneously) delivering both quality and quantity. The planter's lamps use Véritable® high-end LED technology that provide a color spectrum adapted to edible plants. Its specific color and performance ensure quick growth and help to develop the taste of your plants. The light is automatically controlled: External light is not needed, however if the planter is in a room with natural light, the LED lamps can be set to automatically adjust the brightness based on the amount of ambient light.
The water reservoir allows three-week irrigation autonomy. The LED light alarm will indicate with a soft pulse when it's time to add water.
It is very easy to use: plug in, fill the reservoir with water, insert the Lingots® (organic seeds and soil), and let the planter do the work. Plants are ready to be tasted in four weeks and each Lingot® guarantees regular harvest from four to six months. The kit includes four Lingots®: sweet basil, chives, parsely and thyme. Made in France.
The EXKY mini version with an 8" square footprint is made for smaller apartments. The Veritable® EXKY Smart Garden has a 35 oz water reservoir that enables it to go up to three weeks watering itself automatically, and silently, thanks to its passive hydroponic technology. It also has a blinking water-level alarm that will keep you from over-watering. The Veritable® Smart Garden includes two each of Basil and Parsley Lingots®. The baskets that hold the Lingots® are dishwasher safe.
It is recommended that the Veritable's two irrigation wicks should be changed at least once every six months for best results. A set of eight replacement irrigation wicks is sold separately. The wicks deliver automatic plant watering through capillary action.
Designer

Chloé Verneuil

Size

Small: 15h x 8w x 8"d
Large: 17.7h x 13w x 7.3"d

Material

ABS Plastic, Electronics
Lingot: Coco Fiber, Peat and Seeds

Year of Design

2018

Origin

France
If for any reason you are not satisfied with your purchase, you may return merchandise within 90 days for a refund in the form of original payment. Learn More.
$7.95 Flat standard shipping fee available. Learn More.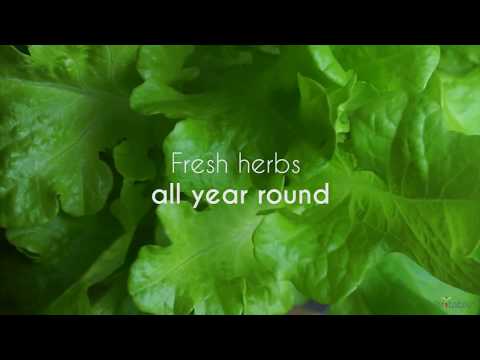 You will earn Rewards points.
Why We Chose This
Crowd-funded via Kickstarter, the Veritable® is different from other smart indoor gardens on the market because each Lingot® (a composition of organic seeds, organic soil and nutrients) produces a harvest of edible plants for a longer period of time, four to six months. The Veritable® is fool-proof even for people who don't have green thumbs: Everything has been thought out for you to easily and cleanly grow edible plants at home in a small space.
Authenticity Guarantee
At MoMA Design Store, all of the designs we sell are curator-approved and authentic. We ensure the integrity of our products through research and by working closely with the designers. Our products embody the spirit of good design objects in MoMA's collection. Some of them are actual designs represented in the Museum's collection.
You Might Also Like
Recommendations
Recently Viewed