Vik Muniz: Postcards from Nowhere - Hardcover
Vik Muniz: Postcards from Nowhere - Hardcover
Vik Muniz's Postcards from Nowhere is a two-volume, slipcased, limited-edition album that pays homage to the quasi-obsolete artifact of the picture postcard. In this series, the viewer is invited to explore their own understanding of the Great
Wall of China, the Eiffel Tower, or the Taj Mahal through carefully crafted and transformative collages. Muniz grapples with how we have come to "see" and understand distant iconic sites that we may never actually view with our own eyes. "The images we hold
in our head are an assemblage," he notes. "They are an amalgam of every image of those locations that we have ever seen." Muniz's new images, created out of collaged pieces of the artist's vintage postcard collection, materialize the experience and
longing of travel, triangulating between the traveler, a distant location, and the postcard's recipient at home. Wish you were here!
Size

9.25h x 12.125w x 2.125"d
If for any reason you are not satisfied with your purchase, you may return merchandise within 90 days for a refund in the form of original payment. Learn More.
$7.95 Flat standard shipping fee available. Learn More.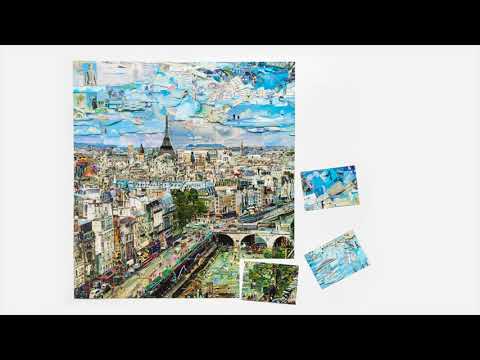 You will earn Rewards points.
Authenticity Guarantee
At MoMA Design Store, all of the designs we sell are curator-approved and authentic. We ensure the integrity of our products through research and by working closely with the designers. Our products embody the spirit of good design objects in MoMA's collection. Some of them are actual designs represented in the Museum's collection.
You Might Also Like
Recommendations
Recently Viewed