Yoshimoto Cube No. 1 Desktop Puzzle
Yoshimoto Cube No. 1 Desktop Puzzle
MoMA Exclusive: Designer Naoki Yoshimoto designed this 3D puzzle in 1971 when he was searching for a way to divide a cube equally. The result, the Yoshimoto Cube No. 1—an object in MoMA's collection—is an addictively tactile polyhedral dyad composed of eight interconnected cubes that can be configured multiple ways. Divide it into two cubes and then transform the two rhombuses, one silver, one gold, into polyhedrons with 12 faces. With its endless transformations, the cube makes a great toy as well as an intriguing—and calming—desktop puzzle. A MoMA Design Store favorite, the Yoshimoto Cube No. 1 has been recently reissued. It's made from plastic and polyester and measures 2"cube.
Designer

Naoki Yoshimoto

Size

2"cube

Material

Plastic, Polyester

Year of Design

1971

Origin

Japan
If for any reason you are not satisfied with your purchase, you may return merchandise within 90 days for a refund in the form of original payment. Learn More.
$7.95 Flat standard shipping fee available. Learn More.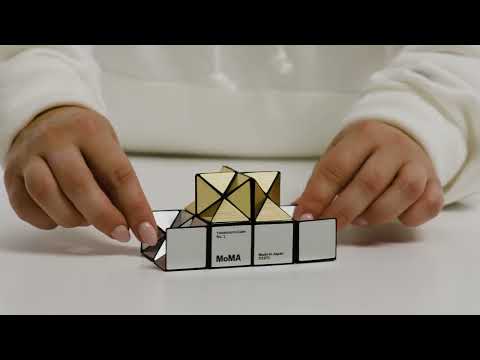 You will earn Rewards points.
Authenticity Guarantee
At MoMA Design Store, all of the designs we sell are curator-approved and authentic. We ensure the integrity of our products through research and by working closely with the designers. Our products embody the spirit of good design objects in MoMA's collection. Some of them are actual designs represented in the Museum's collection.
You Might Also Like
Recommendations
Recently Viewed